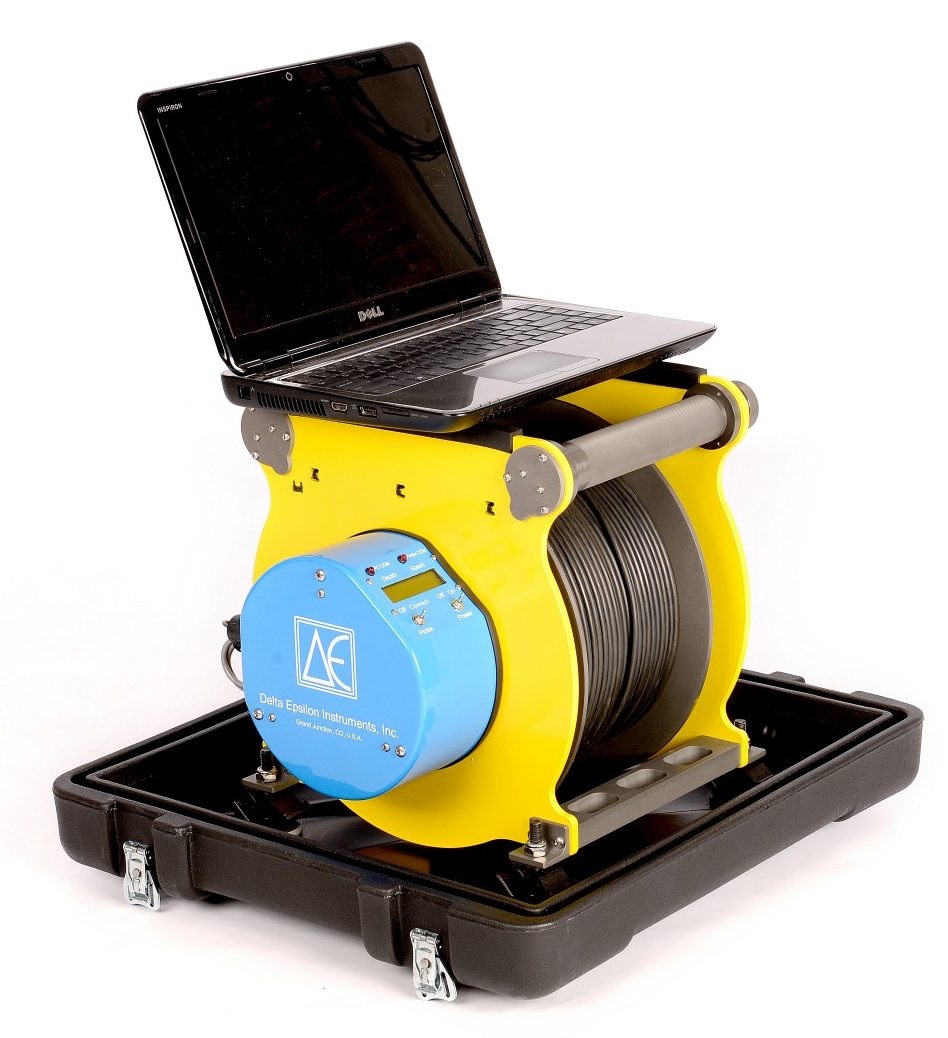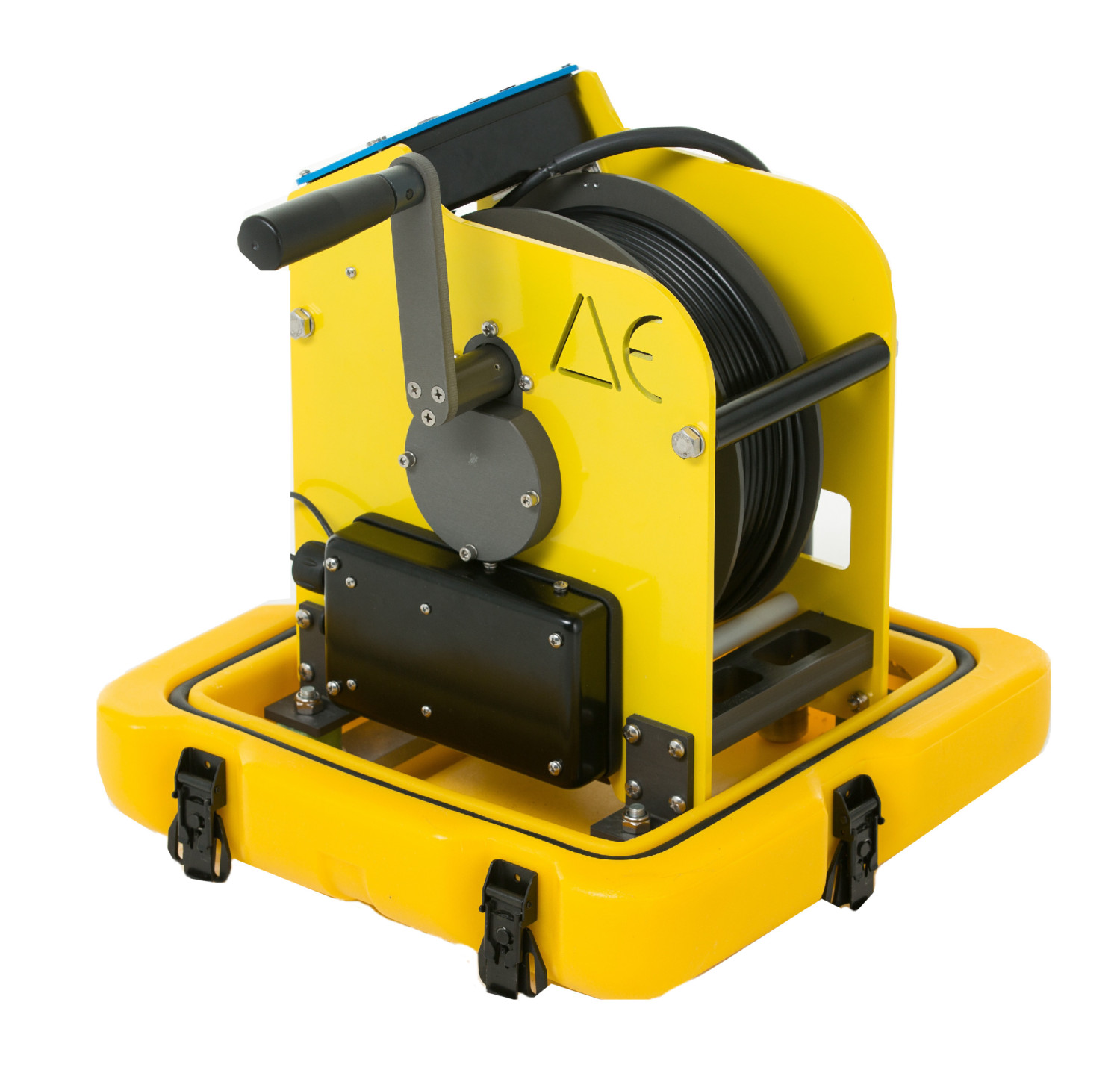 1 SERIES
PORTABLE
BOREHOLE
LOGGERS
The 1 Series set a new standard for value, refined simplicity, versatility and performance in portable borehole loggers/ well logging systems. They are unequaled among commercially available portable logging systems for the economical and precise exploration of water wells and other drill holes.
Truly portable, the 1 Series Delta Epsilon Borehole Logging Systems are digital, state-of-the art manually cranked loggers. The 1 Series loggers being manually cranked confer several desirable characteristics. These include lighter weight, increased portability, reduced system complexity and lower cost.
1A-150

Completely self contained, Hand Cranked, Light weight, Disc Brake with uni-directional clutch

150M of Ø.10 Single conductor cable

35cm x 35cm x 38cm (13.8″ x 13.8″ x 14.8″)

11.8Kg

(26 Lbs)

Internal, rechargeable, batteries or External 12-14vdc

Compatible with all probes except video

1-4D-250

Completely self contained, Hand Cranked, Light weight, Disc Brake with uni-directional clutch

250M of Ø.22 four conductor insulated cable

52.6cm x 54cm x 45.1cm

(20.7″ x 21.3″ x 17.8″)

35Kg

(77 Lbs)

Four replaceable standard D-cell batteries (100 hrs operation) or External 12-14vdc

Compatible with all probes
The loggers are self-contained with the winch assembly integrated with an up-hole power supply, digital depth and speed indicators and USB compatible PC interface. Both systems are shock-mounted in permanent MIL SPEC shipping and storage cases.
Both systems are constructed of corrosion resistant aluminum and stainless steel. All appropriate surfaces are either powder coated or anodized and feature an uncommon attention to detail, intuitive operating characteristics and refinement of design. All bearings are sealed and require no lubrication.
The Model 1-4D-250 meter four conductor system is powered from easily replaceable D cell batteries contained in the instrument carrying handles. The Model 1-A-150 meter single conductor system is powered from an internal rechargeable battery pack. Either logger may be optionally powered from an external 12Vdc. Source like a car battery.
 Both systems feature a mechanical disc brake with an integral one-way clutch. The brake and clutch arrangement ensures that the winch cannot reverse direction or creep backwards when the probe is stopped in the hole. The brake also ensures that probe descent is always controlled and the winch drum is secured and cannot rotate during transport.
Both logging systems run under the supplied DELogger software. As delivered all systems are complete and ready to log with the exception of a PC laptop computer for the acquisition, display and storage of borehole data. All data is in the LAS format.
Both the Compact model 1-A-150 meter single conductor or model 1-4D-250 meter four conductor logging systems are capable of running every Delta Epsilon borehole probe. The Model 1-4D-250 is also capable of running borehole video in addition to geophysical measurements.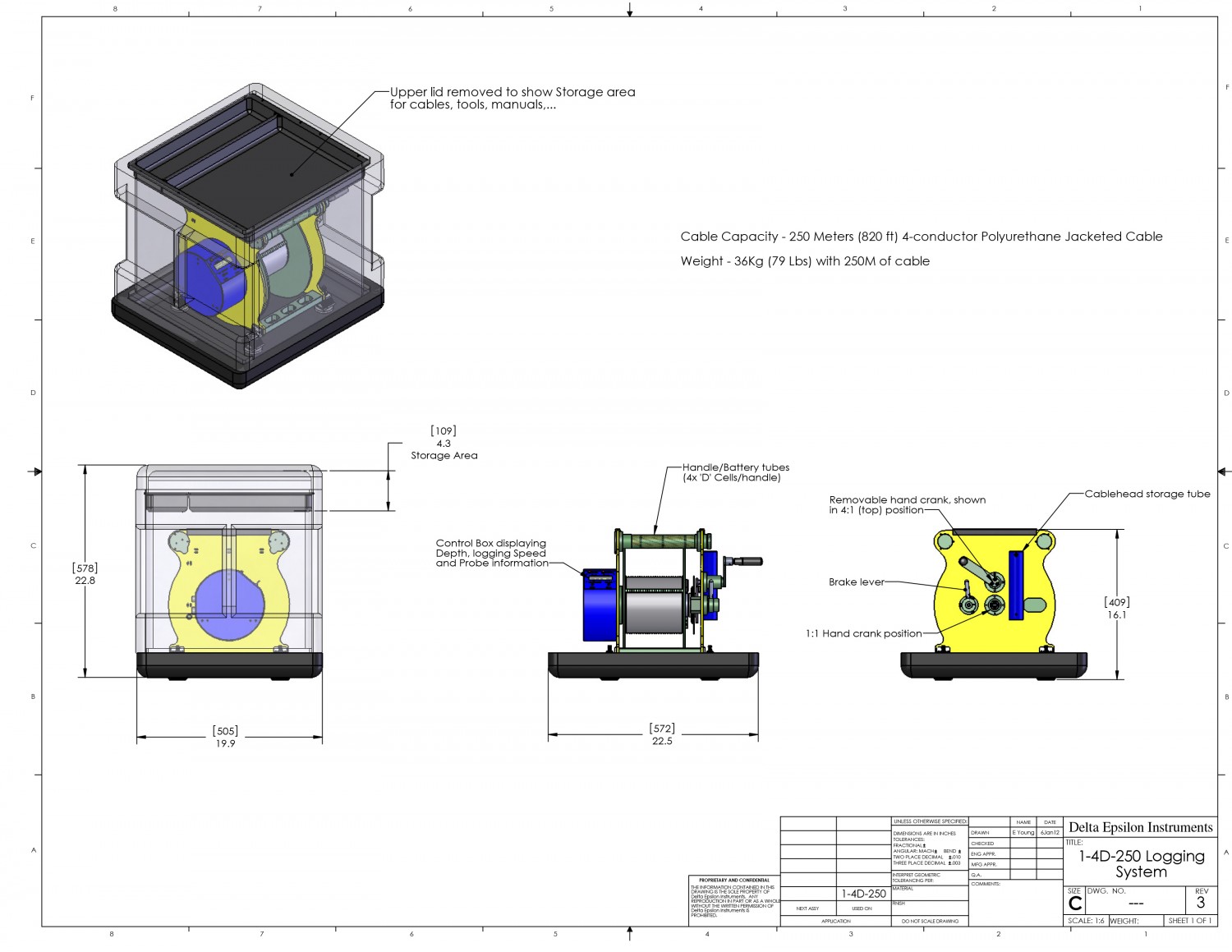 The standard GE-0809c combination Gamma, Single Point Resistance, SP and Short Normal Resistivity probe is only 1 meter in length. The probe and wellhead tripod with an integral cable wiper are both contained in a compact, protective and ruggedized foam lined shipping and storage case.
Both cases are comfortably handled by one person and may be checked as airline baggage, are easily carried in the smallest vehicle, plane or helicopter. The MIL SPEC cases are water and dust tight, as well as highly resistant to shock and denting.
The measuring wheel and shaft encoder are an integral part of the well head tripod and are connected to the logger with a durable cable featuring molded waterproof connectors.
Both systems feature completely sealed noise-free mercury wetted slip rings and world standard field proven durable GOI type cableheads.
Delta Epsilon portable loggers are available in three basic configurations. Each configuration is a unique, versatile platform optimized for its intended purpose.